OK, you've got this organization to "manage".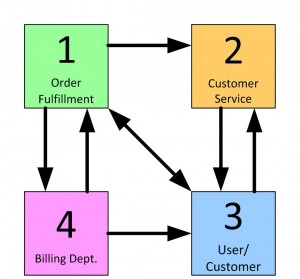 Two start-up questions:
1.       What are you going to manage? Are you going to manage the "Boxes" – the people and their motivations and behaviors busy performing tasks and activities – or are you going to manage the "Arrows" – the products, services, and communications that are delivered between the Boxes?
Hint 1: People do not like being managed.
Hint 2: People can get behind the idea of managing the deliverables.
2.       What kind of "Performance" are you looking for? There are three kinds of performance, and they are observed or measured in different ways:
a.       Productivity-Efficiency
b.      Quantity-Quality
c.       Effectiveness-Impact
Hint 3: There is no "right" answer. You have to really think about what result you want.
Hint 4: Answer "c" is usually more expensive than the other ones because you have to get feedback from other people.
Management 1-2-3:
Manage the deliverables – Deliverable products, services, and communications are the basic units of performance, whatever type you choose.
Communicate – Communication is the basic unit of management. Use all four productive conversations.
Get agreements for deliverables – Deliverable agreements are your engine for performance. It's all about the Arrows.