Stop managing people!  Stop managing "doing", and start managing agreements for results and outcomes.  It's much simpler, it sorts out "people issues", and it lets everyone keep an eye on the Bigger Picture. Here's how it works.
Most people think an organization looks like this:
So they use those "authority lines" to manage the boxes.  What's in the boxes? People doing stuff. So you're managing people.  And what they're doing.
But the way an organization really works has to include communications between "silos", and with customers, and with suppliers and regulators and all kinds of other people and groups.  Reality looks something like this:
So instead of managing what's going on inside the boxes, you could manage the agreements between boxes.  Those arrows represent agreements for "deliverables", which are products, services, or communications – or sometimes all three at once. You'll still have lines, but they aren't relying on authority any more, they rely on creating and meeting agreements between groups. Smarter than trying to manage people, don't you think?
Another example: Projects are usually managed like this: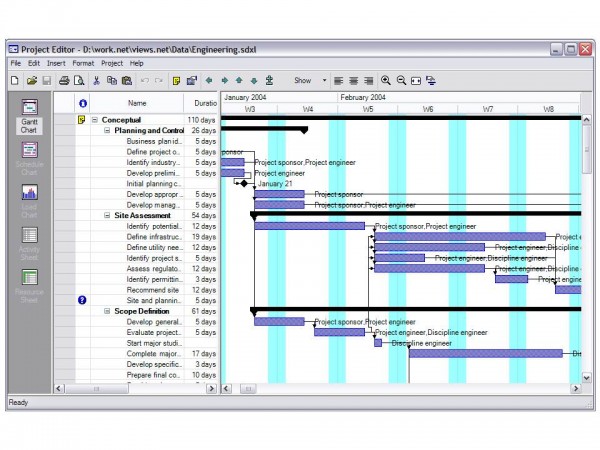 Using a Gantt chart is good to manage People Doing Work, overseeing tasks and timelines. Nothing wrong with that. But when you see your project as a network of agreements, you force yourself to consider all the "outside groups" you need to create agreements with. And that's a good thing.  Better to think about that as part of defining your project than to realize later you've dropped out someone who needed to be in the loop.
A simplistic 20,000-foot view of a project gives you the general idea: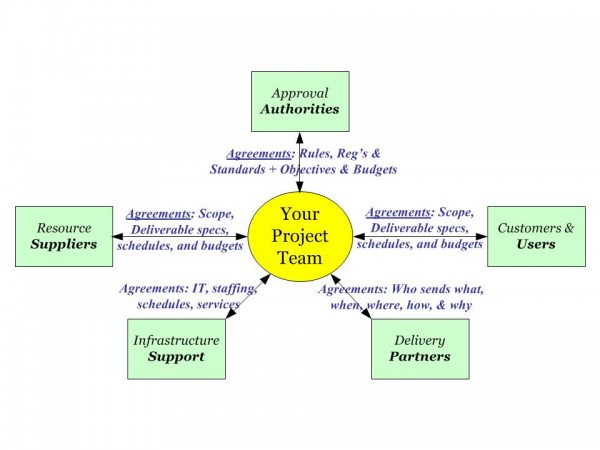 Using a network like this to nudge you into listing all your key "agreement partners" for the project doesn't mean you don't manage timelines.  Time will be a key element in the agreements you make for the deliverables (products, services, communications) that will go back and forth to meet expectations on all sides.
Managing agreements is usually a pretty neat and tidy way to do business. It lets your people be more grown up and creative, and it gets you out of having to micromanage everything that's happening. Nice.